"We brought this camping trip and it was a hit. Everyone passed it around that campfire and the kids went around picking up all the bottle caps and playing with them. I will be ordering more so the kids don't have to fight over having a turn. Super fun! "
⭐⭐⭐⭐⭐ - Matthew N. ✅ Verified Buyer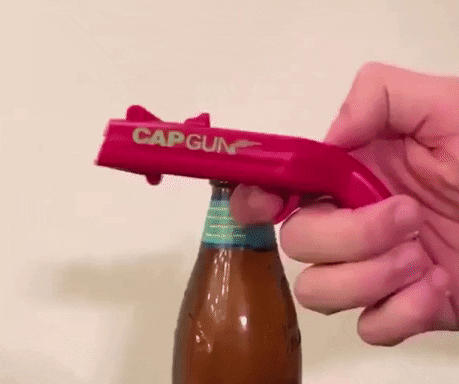 Grab A Drink, Pop It Open Then Have Fun!
This Portable Bottle Cap Opener makes the experience of opening your favorite beer quicker, while also adding a new level of fun by enabling you to easily launch those bottle caps to your unsuspecting friends.
This fun Portable Bottle Cap Opener lets you enjoy the taste of your favorite beverage while having fun when you shoot your friends with the discarded bottle cups. Have a bit of fun when opening your beer bottles!
✅ Fun Innovation: With our Portable Bottle Cap Opener, opening your drink has never been so much fun. This unique bottle opener lets you easily pop bottle caps and then use these bottle caps as ammo to playfully mess with your friends and families as they are relaxing around.
✅ Usefulness: Besides being portable, this opener also allows you to playfully develop rapport with other people. Make friends by sharing a drink with each other, especially if you make people laugh by launching a beer cap onto their table.
✅ High-Quality: The Portable Bottle Cap Opener is a unique ABS plastic opener that launches discarded bottle caps with a range of five meters. It is lightweight, durable, and will have a long-lasting impact on your beer drinking.
✅ Unique Design: We have the Portable Bottle Cap Opener designed as a gun so that you can use it at a party, play with it to break the ice, and enjoy a drink while having a good time.
Package Includes
2 x Portable Bottle Cap Opener

🔒100% risk-free purchase🔥
Handling Time >> The product will be shipped whin 48 hours after payment.
If you are not satisfied with your purchase, just contact us at service@vineady.com. The return and refund processes are simple and risk-free. To learn more about our return & refund policies, please check Refund Policy